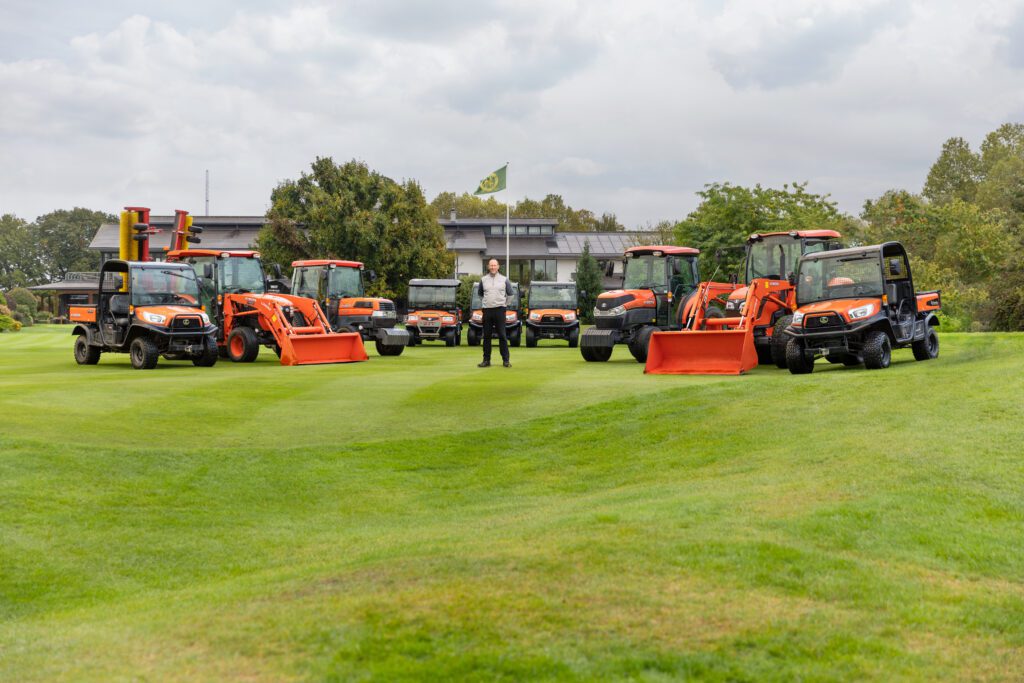 A fleet of five RTV's and five tractors from Kubota are supporting operations across the busy 36-hole complex at Royal Mid-Surrey Golf Club. Some of the vehicles have delivered close to 20 years of reliable service and it's this dependability that's keeps Golf Course Manager, Gavin Kinsella, loyal to the brand for some of their most vital and well-used pieces of equipment. 
Founded in 1892, and set on a stretch of royal parkland, Royal Mid-Surrey today comprises of two 18-hole courses – a shorter, more tactical round lays ahead on the Pam Barton course, while the longer, championship JH Taylor course poses a test to players of all abilities,  regularly playing host to county and England Golf tournaments. "Keeping on top of condition and delivering the standards that players expect with a team of 20 is a challenge, particularly when you factor in holidays and staff absence" explains Gavin, "but it helps when you can rely on the equipment you have in the shed." 
"We purchased our first Kubota RTV and compact tractor based on the great working relationship the club developed with local dealers Lister Wilder. Since then, the outstanding reliability we've had combined with the operator experience and suitability of these vehicles on our site means we've never looked at anything else." He adds, "40% of our land is floodplain which can lay very wet over winter, and these all-rounders keep us mobile and never fail to get us and our attachments out on the course even in very inclement weather."
One of the clubs original RTV-900's, purchased in 2005, remains on the fleet joined by two RTV-X900's and two RTV- X1110's in more recent years. "These vehicles are the first out of the shed every morning and often the last to return. They're our go-to for towing trailers, moving greens machines, and transporting tools and the team around the site for course set up. All the controls on the RTV's are where you want them, and the suspension makes for a smooth and comfortable drive experience."
Alongside RTV's, and proving to be the workhorses for the majority of autumn, winter and spring maintenance and renovations are an L2602, L3830 and L5040 from Kubota's popular L tractor series, a B2710 and delivered recently was a larger, 67hp M6060 with loader.
"The versatility we have in our tractor fleet means that no matter the operation or implement required, we can get the job done with efficiency." With the smaller implements catered for by the lower hp compact tractors, their new M6060 will be taking the strain for larger-scale groundworks and heavier machinery, such as the clubs high-capacity vacuum collector.
Gavin concludes, "Our loyalty to Kubota is entrenched in our confidence in them. They're machines we know, machines we trust and over several years have proven to be the most robust and reliable vehicles for our situation."